Choose your life story.
Courage/Authenticity/Resilience
VS
Shame/Perfection/Scarcity
The Daring Way™
I am a Certified Daring Way™ Facilitator which includes training in both
The Daring Way™ and Rising Strong™.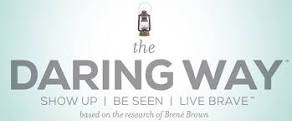 Daring Greatly is about being brave and afraid at the same time as we show up and live our life. Failure, mistakes and imperfection stop us because we believe that we can't survive it – the shame, the aftermath.
Rising Strong™ is the process of knowing that you can get up, you can survive, you can thrive after you "face planted" in failure.
It is all about resilience.
About Brene′ Brown, The Daring Way™
and Rising Strong™
The Daring Way™ and Rising Strong™ are both highly experiential methods based on the research of Dr. Brene′ Brown. I use these methods for working with individuals and couples.
Using discussion, video and a variety of written and creative exercises, we explore topics such as vulnerability, courage, shame, emotions, stories, falls and worthiness.
We examine the thoughts, emotions and behaviors that are holding us back and we identify the new choices and practices that will move us toward more authentic and wholehearted living.
The primary focus is on developing shame resilience skills, rising from our falls and developing daily practices that transform the way we live, love, parent and lead.
Dr. Brene′ Brown is a research professor at the University of Houston. She studies courage, vulnerability, shame and empathy and is the author of multiple best sellers – The Gifts of Imperfection, Daring Greatly, Rising Strong and Braving the Wilderness:The Quest for True Belonging and the Courage to Stand Alone.
Brene′'s 2010 TEDxHouston Talk – The Power of Vulnerability is one of the top five most viewed TED talks in the world. Brene′ also gave the closing talk at the 2012 TED conference where she spoke about shame, courage and innovation.
How are you living now?
Do you hear the voice of culture, family or self saying "you are not enough" or "who do you think you are?"
Are you afraid to risk because you might fail?
Your power and belonging and worthiness come not from your "hustle for worthiness" but rather from your very EXISTENCE.
Are you hustling by trying to get it right or going for perfection?
Perfection is a seductive way to try to chase away feelings of shame, inadequacy and the fear of being misunderstood.
Perfection is not about excellence, constructive competition or a trait to be admired.
Instead, perfection fuels a scarcity mindset, shame and the fear of failure – which keeps you feeling exhausted, inadequate and inauthentic.
Perfectionism is an attempt to protect ourselves from shame, blame, criticism or judgment.
It results in self-doubt, fears of disapproval and rejection, and attempts to be in control.
The perfection struggle has two sides to it: overachieving/overfunctioning and underachieving/underfunctioning.
Does this sound like you?
Overachievers/functioners:
Never feel satisfied
Are controlled by fear of failure and disapproval
Set unrealistic standards and goals
Believe that success is not possible without being a perfectionist
See mistakes as proof of unworthiness
Experience exhaustion and burnout
Consider being a perfectionist as an important part of their identity
Underachievers/functioners:
Avoid any tasks where risks of failing or not doing something perfectly may result
Procrastinate
Experience performance or social anxiety
Constantly feel overwhelmed
Perform below capabilities
Anxiously focus on end product
You can stop living like this. It is not about trying harder. There is another way.
Shame is perfection's best friend.
It is important to name, address and dissolve both.
Shame is part of being fully human BUT shame never leads us toward positive change.
Believing that "I am bad and flawed and unworthy of love and belonging" is highly correlated with anxiety, depression, anger, substance abuse, marital distress, disordered eating, financial problems and other painful behaviors.
Shame is the "under the bed monster" in our lives.
Nobody wants to talk about their shame but if you do not address it by name and understand your triggers, it will run your life.
I help people develop shame resilience so that they know that they are enough and worthy of love and belonging.
If you want to change how you are living so you can show up and be seen in a different way,
please give me a call.
949 922 7800
"You are imperfect, you are wired for struggle, and you are
worthy of love and belonging."

Brene′ Brown